November 6, 2017
USBLN Proudly Sponsors A Breakthrough Report On Disabilities And Inclusion From The Center for Talent Innovation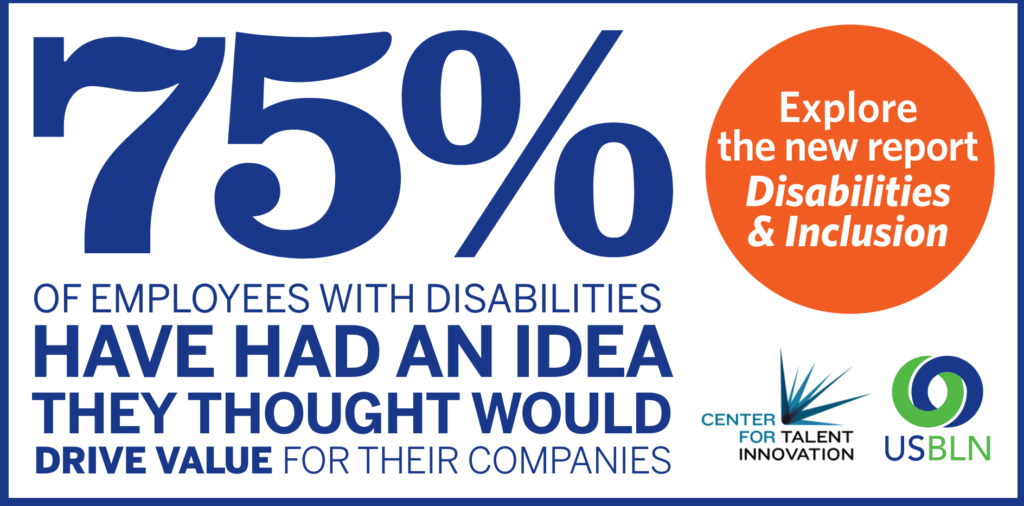 As many as 30% of full-time, college-educated professionals in the U.S. have a disability. That's the finding from a first-of-its-kind study published today by the Center for Talent Innovation (CTI), and sponsored by the USBLN.
USBLN's sponsorship was generously supported by: 3M, General Motors, McKesson, Merck, Microsoft, and Walgreens Boots Alliance.
Using the new, broader definition of disabilities, which as of last year includes mental health and chronic conditions, the CTI's report, entitled Disabilities and Inclusion, uncovered enlightening information about employees with disabilities and the impact that information has on their employers. For example:
Sixty-two percent of employees with disabilities have "invisible disabilities," meaning people can't tell they have a disability upon meeting them.
Only 21% of employees with disabilities disclose them to their employers' human resources departments.
Seventy-five percent of employees with disabilities report having innovative ideas that would drive value for their company.
Forty-eight percent of those same employees report that their ideas did not win endorsement from people with the power to act on them.
Employees with disabilities report experiencing negative bias in the workplace, and feeling stalled in their careers.
The implication of the research for companies is clear. Invisibility and a lack of awareness about such a high percentage of their workforce translates into a loss of opportunity, and potentially a loss of revenue for employers. Employees with disabilities make up an enormous talent pool, but remain under the radar. Employers who want to elicit the best ideas from their staff, including those with disabilities, should rely on inclusive leadership.

With people with disabilities making up 1/3 of the professional workforce, it's imperative for employers to find ways to cultivate their potential. The CTI's Disabilities and Inclusion report highlights ways employers can nurture inclusion in the workplace. Creating an environment where employees with disabilities feel safe enough to propose novel ideas; feel like those ideas are being heard; and are receiving actionable feedback is the first step. Establishing a relationship with organizations like USBLN also promotes a commitment to disability inclusion.

For more information on Disabilities and Inclusion, please visit www.talentinnovation.org.





These Diversity & Inclusion influencers recommend your company use the Disability Equality Index…here's why.
USBLN asked corporate partners and strategic alliances: "Why should a corporation take the DEI?" The responses flooded in. From Ed Mackey, Executive Vice President, Global Operations, Boston Scientific to Senator Ted Kennedy Jr., we heard why the DEI is important to their efforts and why your company should register too.

---


Top Reasons to Register for the 2018 Disability Equality Index (DEI) Survey
Participating in the DEI will leave your organization walking away with new ideas, new insights, and new methodologies to help take disability inclusion to the next level.

---


USBLN Statement on International Day of Persons with Disabilities
Written by Jill Houghton, President and CEO of USBLN Today we celebrate the International Day of Persons with Disabilities, that was first proclaimed in 1992 by the United Nations General Assembly. While much has been accomplished, more remains to be done to make the world truly inclusive. This year, the theme is "Transformation towards sustainable […]

---


Champions of Diversity by Diversity Plus Magazine
Each year Diversity Plus Magazine celebrates "Champions of Diversity." These are the people who have driven diversity in corporate supply chains and workforces.

---


IBM Wins Employer of the Year for People with Disabilities
IBM is the most recent recipient of the USBLN's Employer of the Year Award for its continued dedication to inclusion in the workplace. In a letter to its employees, Chief Diversity Officer shares the news, and reiterates the company's commitment to disability inclusiveness policies, strategies and initiatives.

---