April 11, 2018
Get to know Chad Jerdee
USBLN Conference Chair &
Accenture's General Counsel and Chief Compliance Officer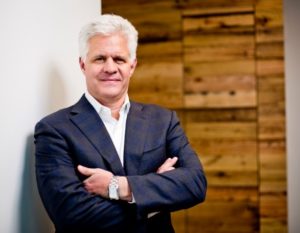 Why are you passionate about disability inclusion?

As an amputee, I know what it feels like to be different and have people make assumptions about what I can and can't do.

Disability inclusion is about overcoming those assumptions and creating a workplace where every individual can bring their unique talents, build meaningful careers, and contribute to a better workplace and world.

While I do believe we need to focus on inclusion for people with disabilities, I also think we need to look beyond labels. What is a disability? Truly, every person faces adversity at some point in their lives. The idea that some receive a full package of "abilities" and that the world is divided neatly between the "abled" and "disabled" is misdirected.

Our focus should be how we adapt, overcome…and then utilize our individual gifts. Becoming disabled, for me, involved a lot of suffering. I spent a month in the hospital, endured many surgeries, battled infections, and spent a full year healing and learning how to work, walk, ski, bike, and do all the other things I love to do.

Looking back, I am so grateful for what I experienced. I wouldn't change a thing. It showed me the good in others. It made me more durable and more thankful. It gave me the opportunity to be a role model for my children. And it made me a more compassionate leader. So, am I disabled or enabled?

Read more about Chad and his commitment to disability inclusion.

Check out our USBLN Conference Track Chairs, including Technology Chair Jenny Lay-Flurrie, Chief Accessibility Officer at Microsoft.





5 Ways to Participate in Global Accessibility Awareness Day #GAAD
On May 17th, the USBLN will be celebrating Global Accessibility Awareness Day (GAAD). GAAD was established to create awareness and generate conversations about accessibility, specifically web accessibility, for people with disabilities. 

---


USBLN Facilitates Over 8,000 New Hires with Disabilities Through Going for the Gold Program
Through the Going for the Gold (GFG) program, the USBLN is aiding 20 Fortune and Global 500 companies achieve the "gold standard" in hiring and fully including individuals with disabilities in their workforces. 

---


Businesses Collaborate to Change the Unemployment Rate for People with Autism
This week, organizations across industries will gather at the third annual Autism at Work Summit, which will take place on Microsoft's Campus in Redmond, Washington, April 24-26, 2018.

---


2018 Annual Conference – Resources on Accommodations
For those conference attendees in need of medical equipment/scooters, etc. – The Cosmopolitan of Las Vegas has provided the names of several vendors whose information is included below. Of course, you are welcome to choose any vendor you prefer, we have provided these for convenience and this in no way serves as an endorsement. If […]

---


The Forum on Workplace Inclusion Honors USBLN with 2018 Diversity Awards
In 2008, The Forum on Workplace Inclusion created an awards program to recognize individuals or organizations dedicated to raising awareness of diversity and inclusion in the workplace. Since then, The Forum hosts an annual celebration in honor of those that impact change and demonstrate sustained support for advancing equality in the workplace. This year, The Forum […]

---