October 24, 2017
IBM Wins Employer of the Year for People with Disabilities
The USBLN is delighted to recognize the efforts of corporations like IBM for their commitment to disability inclusion and equality. At this year's USBLN Conference, IBM received our Employer of the Year Award for its continued dedication to inclusion in the workplace. Their Chief Diversity Officer shared this letter with employees about the honor.
By Lindsay-Rae McIntyre – Chief Diversity Officer – IBM

On Wednesday, August 25, 2017 IBM won the USBLN Employer of the Year award for its commitment to building a better working world through its actions and engaging with like-minded organizations and individuals during the US Business Leadership Network (USBLN) 20th Annual National Conference and Leadership Awards Dinner in Orlando, Florida.

The USBLN is a national non-profit, with expanding global reach, that helps businesses drive performance by through disability inclusion in the workplace. The Leadership Awards recognize outstanding commitment and leading disability inclusion practices from individuals and organization across all industries.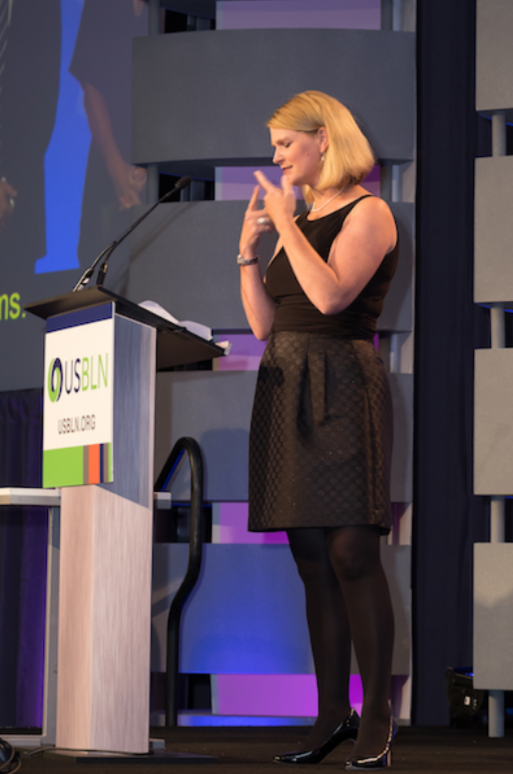 As I was preparing to receive this award, I was reflecting on IBM's influence on this critical dimension of inclusion. We are an organization founded on the principle that eliminating barriers – mental, physical, and technological – will enable us to build a better company and a better world. In both Growth or Major markets, IBM is regarded as a thought leader for people with disabilities as illustrated by some recent awards: in Australia, IBM came first in Australian Network on Disability's Access and Inclusion Index, in India, IBM received the Nipman Foundation Equal Opportunity Award 2016, in December IBM Brazil was recognized at the United Nation's Assembly for their programs facilitating the recruitment and inclusion of employees with disabilities.

This is an increasingly competitive market, and positioning IBM as the employer of choice for all requires relentless efforts. In many countries around the world where we operate, people with disabilities have limited or restricted access to education at all levels, and our ability to recruit people living with a disability in these countries is therefore reduced. Intolerant of excuses, IBM works hard to establish robust relationships with governments, universities and NGOs in these countries to build a strong pipeline of talented people with disabilities, and we are encouraged by the progress that we are making globally.

As IBM's Chief Diversity Officer, and former ASL interpreter and teacher for the Deaf, it was IBM's diversity leadership legacy and pursuit of a better future for all that made me choose to be an IBMer over 20 years ago. IBM hired its first person with a disability in 1914, and has pushed for progress ever since. For IBM, in all the eras and transformation we have navigated, our pursuit of the best talent, has fueled our ability to compete and win. People with disabilities are just that – people who have the training, education, expertise and experience to make IBM better. By maximizing the untapped potential that people with disabilities bring to the work place, we walk the talk of embracing people of all all abilities.

Thanks to the advocacy of our PwD executive council and supporting team on this momentous honor.

Feel free to share with your communities.





These Diversity & Inclusion influencers recommend your company use the Disability Equality Index…here's why.
USBLN asked corporate partners and strategic alliances: "Why should a corporation take the DEI?" The responses flooded in. From Ed Mackey, Executive Vice President, Global Operations, Boston Scientific to Senator Ted Kennedy Jr., we heard why the DEI is important to their efforts and why your company should register too.

---


Top Reasons to Register for the 2018 Disability Equality Index (DEI) Survey
Participating in the DEI will leave your organization walking away with new ideas, new insights, and new methodologies to help take disability inclusion to the next level.

---


USBLN Statement on International Day of Persons with Disabilities
Written by Jill Houghton, President and CEO of USBLN Today we celebrate the International Day of Persons with Disabilities, that was first proclaimed in 1992 by the United Nations General Assembly. While much has been accomplished, more remains to be done to make the world truly inclusive. This year, the theme is "Transformation towards sustainable […]

---


Champions of Diversity by Diversity Plus Magazine
Each year Diversity Plus Magazine celebrates "Champions of Diversity." These are the people who have driven diversity in corporate supply chains and workforces.

---


USBLN Proudly Sponsors A Breakthrough Report On Disabilities And Inclusion From The Center for Talent Innovation
As many as 30% of full-time, college-educated professionals in the U.S. have a disability. That's the finding from a first-of-its-kind study published today by the Center for Talent Innovation (CTI), and sponsored by the USBLN.

---