August 17, 2017
Maximizing Your Experience at the 2017 USBLN 20th Annual National Conference
People attend conferences for different reasons, mainly because it helps them learn, grow and connect. While the 2017 USBLN 20th Annual National Conference will offer its attendees that and more, conferences are ultimately what you make of them. We understand this, and want to share some tips to ensure you have the most valuable and engaging experience.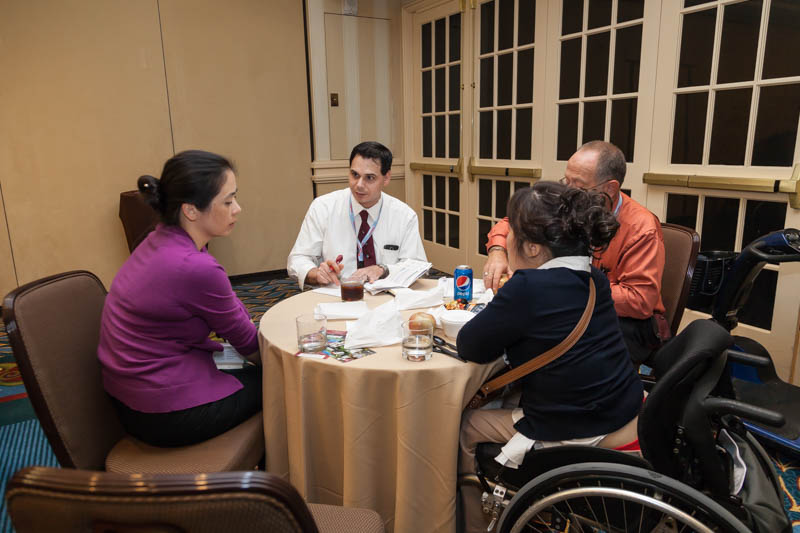 Before the Conference
Consider your goals. Are you attending to gain specific information, connect with certain people, and/or have detailed questions answered?
Review the schedule, and develop a plan. This conference offers a wide variety of breakout sessions, panel discussions, plenary presentations and workshops over multiple tracks. Because some of these presentations will overlap, it's critical that you do your homework before you arrive to attain your attendance goal.
Download the app. Don't know where to start your planning? Put all the 2017 USBLN Conference details in the palm of your hand with the 2017 USBLN Conference mobile phone app. Visit the iPhone and iPads or Androids app store, and search for the app "USBLN 2017 Conference."  When the conference is over, you'll also find presentation materials available here.
Connect on social media.  Start following the hashtag #USBLN17 on social media.   It's a great way to get real time updates, and share experiences. Join in the fun at our first USBLN Digital Lounge!  Bookmark the web address http://usbln.org/news-and-events/digital-lounge/.  In the Digital Lounge, we'll be hosting Twitter chats and Facebook Live events, including an appearance from Nyle DiMarco.  Check out our first Snapchat filter and even get an introduction to our Rising Leaders on Instagram.
During the Conference
Participate. Don't just "attend" the conference; make sure you're physically and mentally there. Introduce yourself. Ask questions. Engage in the sessions you're attending.
Take notes. There's going to be a lot of information – emerging trends, innovative theories, and new opportunities. Jotting down thoughts, ideas and information is the best way to create a research list to review later.
Network. The conference's multiple receptions, mixers and ancillary events are golden opportunities to bounce ideas off of peers and approach experts to get their opinion on specific subject matters. Remember, face-to-face meetings strengthen relationships.
Take care of yourself. Immersing yourself in a conference can be exhausting. Be sure to get enough sleep, eat right, stay hydrated, and take breaks. You don't want to overwhelm yourself by trying to do it all.
After the Conference
Follow-up. Hopefully you'll make a lot of great connections. It's a good idea to touch base with those individuals via email, social media, or even by phone immediately after the conference while it's fresh in your mind.

Apply what you've learned. The true testament of our conference's success is how well the information presented can be applied to everyday situations. Take some time to absorb all the information you learned, and determine what aspects of it you can adopt.

After months of planning, the 2017 USBLN 20th Annual National Conference is just a few days away! We wish you all a safe journey, and look forward to seeing you soon. 





Preserve the ADA
We cannot roll back the rights of people with disabilities. The ADA Amendments Act of 2008 (ADAAA) that amended the Americans with Disabilities Act of 1990 "provides a clear and comprehensive national mandate for the elimination of discrimination against individuals with disabilities." The USBLN strongly supports the goals of the ADA to ensure equality of […]

---


Read the 2017 USBLN Annual Report
THANK YOU to our corporate partners, strategic alliances, board members, disability-owned businesses, students and recent graduates, local USBLN Affiliates and allies. Together we have achieved so much in 2017. Disability inclusion is a journey for all of us. For now, let's acknowledge the advancements we've made in 2017.

---


USBLN Now Offers New Two-Year Certification for Disability-Owned Businesses
The USBLN recently launched a 2-year certification for all disability-owned business owners. The USBLN's decision to expand its nationally recognized certification from one year to two provides a greater value to disability business owners.

---


These Diversity & Inclusion influencers recommend your company use the Disability Equality Index…here's why.
USBLN asked corporate partners and strategic alliances: "Why should a corporation take the DEI?" The responses flooded in. From Ed Mackey, Executive Vice President, Global Operations, Boston Scientific to Senator Ted Kennedy Jr., we heard why the DEI is important to their efforts and why your company should register too.

---


Top Reasons to Register for the 2018 Disability Equality Index (DEI) Survey
Participating in the DEI will leave your organization walking away with new ideas, new insights, and new methodologies to help take disability inclusion to the next level.

---