August 2, 2017
#DisabledandHired: Systems Test Engineer at Northrop Grumman Corporation
USBLN highlights various young leaders with disabilities in the Rising Leader Spotlight Series. If you are a corporate partner (or potential partner), and would like more information on our USBLN's Rising Leaders, please contact Liz (liz@usbln.org). If you are a young leader with a disability, and would like more information on the Rising Leadership Mentoring Program or the Rising Leadership Academy, please contact Keri (keri@usbln.org).
The number of students with disabilities attending higher education in the United States now represents 6% of the student body. As with any graduate, their professional success will stem from a number of things, including work ethic, opportunity, and, for some, having a mentor to guide them.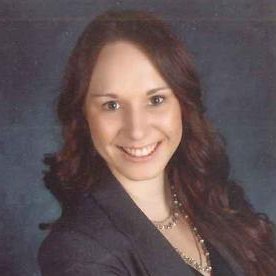 Quality mentoring relationships have a powerful effect on young people in a variety of situations – personal, academically and professional. Initiatives like the USBLN Rising Leaders Mentoring Program were created to further those opportunities. This six-month career mentoring strategy brings together employers with college students with disabilities and recent graduates with disabilities in a mutually beneficial way. Through the USBLN's association with over 130 corporate partners, we match at least 70 individuals to business professionals in their field of study, area of interest, and whom they would not otherwise have access to. The Rising Leaders Mentoring Program connects students like Angie Dauer to experts that can provide professional growth and development, and social and economic opportunities.

Angie has a passion for math. She has an Associate of Science in Mathematics from Mendocino College, a Bachelor of Arts in Applied Mathematics from UC Berkeley, and a Master in Science in Applied Mathematics with a concentration in Math Theory of Communication Systems from San Diego State University.

Once she graduated from San Diego State University in 2015, her career goals were very fluid. She began volunteering for a non-profit, and soon learned about the Rising Leadership Mentoring Program (RLMP), thinking "it would be a perfect fit to help [her] understand how to get [her] foot in the door at a company and get paid to do something [she] enjoyed." She was accepted into the program, and, while there, was exposed to the USBLN, its initiatives, resources and USBLN Annual Conference.

Intrigued by the potential, she attended the conference, and was amazed by the number of company representatives looking to grow their company's numbers of individuals with disabilities, and actively obtaining and sustaining employees with disabilities. "The support of individuals with disabilities and willingness to learn and admit where knowledge gaps exist was astounding to me."

Angie's experience at the USBLN Conference was transformative. Throughout the weekend, Angie was able to experience first hand the benefits of the USBLN programs. Programs that encourage underrepresented people in the workplace; programs that give viable tools and huge networking opportunities to individuals and companies; and programs that help focus on professional development of individuals with disabilities.

The weekend also exposed her to an assortment of companies she would be proud to work with. In fact, she's excited about her recently accepted position as a systems test engineer at Northrop Grumman Corporation, and hopes to continue to gain new knowledge and techniques to elevate her skills in that role.

Angie is now a mentor and a mentee. She's passionate about growing her knowledge, and helping others understand the possibilities of what they can achieve, and reach their highest potential.

The USBLN Rising Leaders Mentoring Program is designed to support students and recent graduates as they navigate the professional world, and answer unique questions that relate to being a person with a disability in the workforce. The USBLN will be accepting mentee applications for the 2018 Rising Leaders Mentoring Program in the fall of 2017.Visit usbln.org for more information about Rising Leaders Mentoring Program, and the 2017 USBLN Conference.





Rising Leaders Spotlight Series: LeAndre Yarrell
LeAndre Yarrell is a retired United States Army Sargent who served in Afghanistan. LeAndre's career plan is based on setting goals for himself, and acquiring the professional skills, experience, and accomplishments that will lead him to the C-Suite level.

---


"Disability helps me with problem-solving strategies"
Ray Parker believes the USBLN and the Rising Leadership Academy were invaluable assets for him as a student with a disability transitioning into a working professional.

---


"Don't be deterred by low expectations"
As a person who is deaf, Afomeya encountered supervisors and co-workers who discouraged her from becoming a pharmacist since they could not believe that she would be able to communicate effectively with customers.

---


"I believe this program hit a grand slam"
The Rising Leaders Mentoring Program connects students like Russell Goodacre to experts that can provide professional growth and development, and social and economic opportunities. Russell's ultimate goal has always been a career in sports. Since meeting his mentor, Russell has also grown to love the production aspects of the business.

---


"Inclusive to people who are often forgotten about"
USBLN Corporate Partner, Voya Financial, recently invited a group of students participating in the Rising Leaders Mentoring Program to job shadow its CEO, Rodney Martin.

---