September 18, 2017
Three new BLNs Added to the USBLN Affiliate Network since July 2017
This summer has seen landmark growth in the USBLN local Affiliate Network that spans the nation in 43 sites over 30 states! In July the USBLN added the Mid-Missouri BLN (MMBLN) which is located in the Greater Columbia, MO area spear-headed by a local business, MoreSource-Inc. in partnership with the Missouri Developmental Disabilities Council.  For more information contact:  Kat Cunningham prez@moresource-inc.com
In August the USBLN BOD approved the addition of both the Arkansas (ARBLN) and the Arizona (AZBLN) BLNs.  Arkansas is partnered with the Department of Career Education, Rehabilitation Services Division and Arizona is sponsored by Untapped Arizona.  For information about these two very active networks please reach out to:
Now that the USBLN Conference is over, connecting locally with these BLNs is a way to take to the same type of around disability inclusion education and training from Orlando and spread it across your corporate footprint. BLNs are by business and for business networks that seek to connect you to a talent pipeline, local resources and give you an opportunity to share and learn best practices.
Below is the map of all the USBLN Affiliates for your reference.  If you are seeking more information or would like a personal introduction to a BLN or a set of BLNs please contact: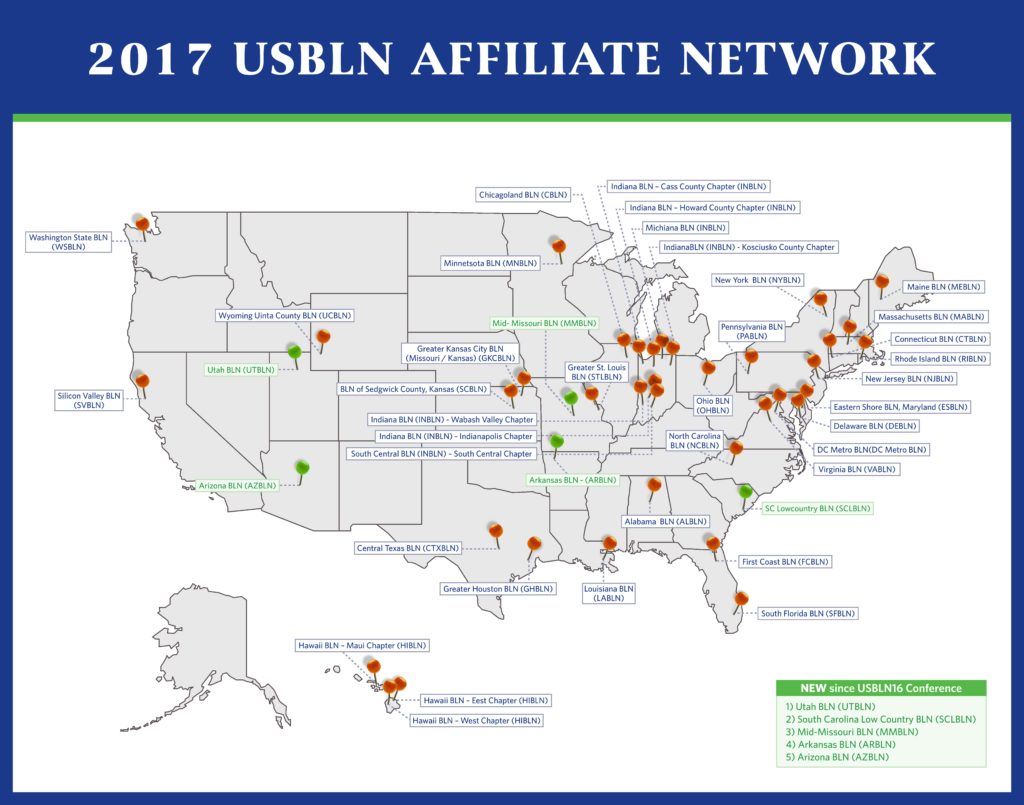 Preserve the ADA
We cannot roll back the rights of people with disabilities. The ADA Amendments Act of 2008 (ADAAA) that amended the Americans with Disabilities Act of 1990 "provides a clear and comprehensive national mandate for the elimination of discrimination against individuals with disabilities." The USBLN strongly supports the goals of the ADA to ensure equality of […]

---


Read the 2017 USBLN Annual Report
THANK YOU to our corporate partners, strategic alliances, board members, disability-owned businesses, students and recent graduates, local USBLN Affiliates and allies. Together we have achieved so much in 2017. Disability inclusion is a journey for all of us. For now, let's acknowledge the advancements we've made in 2017.

---


USBLN Now Offers New Two-Year Certification for Disability-Owned Businesses
The USBLN recently launched a 2-year certification for all disability-owned business owners. The USBLN's decision to expand its nationally recognized certification from one year to two provides a greater value to disability business owners.

---


These Diversity & Inclusion influencers recommend your company use the Disability Equality Index…here's why.
USBLN asked corporate partners and strategic alliances: "Why should a corporation take the DEI?" The responses flooded in. From Ed Mackey, Executive Vice President, Global Operations, Boston Scientific to Senator Ted Kennedy Jr., we heard why the DEI is important to their efforts and why your company should register too.

---


Top Reasons to Register for the 2018 Disability Equality Index (DEI) Survey
Participating in the DEI will leave your organization walking away with new ideas, new insights, and new methodologies to help take disability inclusion to the next level.

---