April 15, 2015
USBLN Board of Directors Member Colleen Fukui-Sketchley Honored by the University of Washington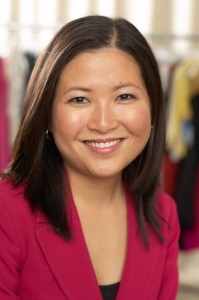 COLLEEN FUKUI-SKETCHLEY
Corporate Center Diversity Affairs Director, Nordstrom, Inc.

Colleen Fukui-Sketchley, diversity affairs director for Nordstrom, is the University of Washington's 2015 Charles E. Odegaard Award recipient in recognition for her leadership in the private sector and volunteer efforts both on campus and in the community.

For over 12 years, she was on the Friends of the EOP Board of Trustees, including stints as its president and vice president. She was also a member of the UW Alumni Association Board of Trustees, serving as president in 2010-2011 and helping launch UW Impact, UWAA's legislative advocacy committee. The youngest woman to receive the Odegaard Award, Fukui-Sketchley is active in national organizations supporting Asian Pacific American women and people with disabilities.

She is currently serving a four-year term as an appointed member of the Governor's Taskforce for Disability Employment aimed to increase the employment of people with disabilities in the state of Washington. The Charles E. Odegaard Award was established in April of 1973 and is the only University and community selected award and is regarded as the highest achievement in diversity at the University.





Champions of Diversity by Diversity Plus Magazine
Each year Diversity Plus Magazine celebrates "Champions of Diversity." These are the people who have driven diversity in corporate supply chains and workforces.

---


USBLN Proudly Sponsors A Breakthrough Report On Disabilities And Inclusion From The Center for Talent Innovation
As many as 30% of full-time, college-educated professionals in the U.S. have a disability. That's the finding from a first-of-its-kind study published today by the Center for Talent Innovation (CTI), and sponsored by the USBLN.

---


IBM Wins Employer of the Year for People with Disabilities
IBM is the most recent recipient of the USBLN's Employer of the Year Award for its continued dedication to inclusion in the workplace. In a letter to its employees, Chief Diversity Officer shares the news, and reiterates the company's commitment to disability inclusiveness policies, strategies and initiatives.

---


DXC Technology, EY, Ford Motor Company, JP Morgan Chase & Co., Microsoft, and SAP launch the "Autism @ Work Employer Roundtable"
These cross-industry employers have led hiring initiatives specific to individuals on the Autism Spectrum for over a year, and recognize the significant benefits to their company cultures as well as those experienced by individuals hired at these companies.

---


A Global Untapped Talent Pool: Employees with Disabilities 
CTI's report "Disabilities and Inclusion" has uncovered that employees with disabilities make up an enormous global talent pool that employers overlook far too often -- to their own detriment.

---