April 15, 2015
USBLN Board of Directors Member Colleen Fukui-Sketchley Honored by the University of Washington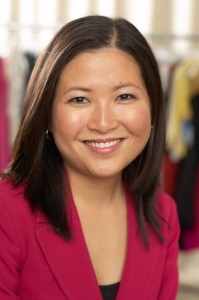 COLLEEN FUKUI-SKETCHLEY
Corporate Center Diversity Affairs Director, Nordstrom, Inc.

Colleen Fukui-Sketchley, diversity affairs director for Nordstrom, is the University of Washington's 2015 Charles E. Odegaard Award recipient in recognition for her leadership in the private sector and volunteer efforts both on campus and in the community.

For over 12 years, she was on the Friends of the EOP Board of Trustees, including stints as its president and vice president. She was also a member of the UW Alumni Association Board of Trustees, serving as president in 2010-2011 and helping launch UW Impact, UWAA's legislative advocacy committee. The youngest woman to receive the Odegaard Award, Fukui-Sketchley is active in national organizations supporting Asian Pacific American women and people with disabilities.

She is currently serving a four-year term as an appointed member of the Governor's Taskforce for Disability Employment aimed to increase the employment of people with disabilities in the state of Washington. The Charles E. Odegaard Award was established in April of 1973 and is the only University and community selected award and is regarded as the highest achievement in diversity at the University.





Three new BLNs Added to the USBLN Affiliate Network since July 2017
This summer has seen landmark growth in the USBLN local Affiliate Network that spans the nation in 43 sites over 30 states! Now that the USBLN Conference is over, connecting locally with these BLNs is a way to take to the same type of around disability inclusion education and training from Orlando and spread it across your corporate footprint.

---


Recap: USBLN Annual Conference and Biz2Biz Expo
As a little person who attended the conference for the first time this year, I was moved by so many speeches throughout the conference. Attendees got real and shared some of their most vulnerable stories, which were relatable. Most of all, I got to be myself without having to worry about people's perceptions.

---


USBLN Recognizes leaders in disability inclusion with 2017 Leadership Awards
Washington, D.C. (August 25, 2017) – On Wednesday, the US Business Leadership Network (USBLN®) presented top awards during the annual conference Leadership Awards Dinner in Orlando, Florida. The Leadership Awards celebrate outstanding commitment and leading disability inclusion practices.

---


USBLN in Inc. Magazine: Why More Tech Companies Should Hire People With Disabilities
While people with disabilities still remain largely underrepresented in the work place, especially in technology, companies are starting to see the importance of disability inclusion. A recent article published in Inc. Magazine cites encouraging data that suggests corporate attitudes are shifting.

---


USBLN in USA Today: More Businesses Are Opening Up To People With Disabilities
A recent article published in USA Today reports businesses are becoming increasingly accessible to people with disabilities. The 2017 Disability Equality Index (DEI), a survey conducted by the USBLN and the American Association of People with Disabilities, supports the data.

---