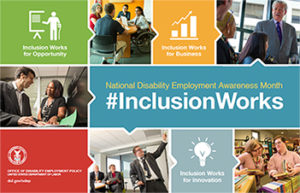 On behalf of the participating USBLN Going for the Gold employers, we are pleased to announce the below 'Hot Jobs'.  If you are a job applicant with a disability interested in any of the below openings, please email emily@usbln.org to include position you are interested in and attach your resume.
**********
Attention College Students: Summer 2017 Summer Internship Programs Now Accepting Applications!
Are you ready for hands-on experience solving challenging real-world problems that make a difference to people? Do you want the opportunity to develop "business thinking" through mentorship and exposure to senior leaders? And does discovering and exploring new cities while building meaningful relationships sound appealing to you?  Then you have come to the right place!
We are seeking rising Juniors and rising Seniors who are registered with their college's disability student services office for Summer 2017 Internship Programs in a variety of fields, including but not limited to:
Business Administration
Clinical
Engineer- Computer, Electrical, Manufacturing
Finance
Human Resources
Information Systems
Operations/Manufacturing
Marketing
Research and Development
Regulatory Affairs
Product Planning / Strategy
Propulsion Systems
Sales
Supply Chain
Vehicle Engineering
These are between 10 and 12-week internships beginning late May and concluding early August.  All internships are paid positions, based on major & year in program. The location of internships varies- and can include Boston, MA; Maple Grove, MN; Chicago, IL; Mt. Laurel, NJ; Florida.
If interested, email resume to emily@usbln.org, and include a short description of the type of internship you are seeking and what geographical area for this internship you prefer.
**********
Inside Sales Associate- Grainger
Location: San Antonio, TX
Multiple Openings Available
Kick off your career in sales working for an industry leader!  As part of a high-performing team, you'll be able to serve as a trusted business partner to your customers. You will have the opportunity to learn the art of selling, while making an important contribution to the business.  At Grainger, we believe in promoting from within, and have a plan in place for how to help you reach your fullest potential.  Grainger is a Fortune 500 company and a perennial member of Fortune magazine's Most Admired Companies list.
Grainger's Inside Sale Reps/Territory Sales Associates (TSA's) make key decisions to influence sales for mid-sized customers, while growing revenue and profits.
Grainger offers:
A fun/competitive environment
Competitive base salary
Generous commission structure
18 paid vacation days
Work with an existing book of business – prospecting within accounts to grow sales!
Medical Benefits – Starting Day 1
Growth opportunities with a Fortune 500 Company
The right person understands customer needs, probes to recognize opportunities, solves problems and recommends solutions. Must have passion for creating a remarkable customer experience, while identifying opportunities to grow sales.
We will consider the right person who is driven, energetic and reaches for the stars, ideally 0-3 years of sales, customer service or telemarketing experience. Must possess at minimum a High School Diploma or GED; undergraduate degree preferred.
**********
Administrative Assistant III- Boston Scientific
Location: Maple Grove, MN
Openings: 1
Primary focus is providing complex administrative support for individuals and/or department.  Works under limited supervision with general instructions given on new assignments.
Key Responsibilities
Performs general administrative duties that may include scanning, coordinating meetings/appointments, calendar management, typing, ordering/maintaining supplies, arranging travel.  Arranges domestic and complex international travel arrangements.  Manages calendar changes with anticipation of ongoing needs, time constraints and necessary preparation.
Establishes and maintains effective working relationships across the organization; ranging from colleagues to executive level team members.  Able to prepare and edit presentation materials for senior level meetings; sometimes with limited direction.  Expense reporting for VP and team members.
Serves as a point of contact for customers.  Contacts are frequently within and outside own organization and involve obtaining or providing information on matters of moderate importance to the organization and may be of a sensitive nature.
Answers complex functional questions that may require additional research and follow-up.
Viewed as key functional resource.
Anticipates and coordinates projects/assignments, organizes own schedule, and that of others, to meet deadlines.  May gather and prepare data in preparation of upcoming projects; identifies future needs to complete projects.
Makes decisions using independent judgment under only general guidelines.
Translates thoughts into documents (letters/memos/presentations, etc.) using existing material; ensures document is logical and complete as well as accurate in grammar and spelling; makes suggestions for improvements in existing communications.
Manages work in a confidential manner, ensuring information is shared with internal and external individuals in an appropriate manner; provides guidance to peers as necessary regarding proprietary information.
Responsible for confidential information which typically consists of company/division sensitive information (i.e. new product technology).
Basic Qualifications:
High School diploma or equivalent
3+ years work experience supporting Senior Level leadership in an organization.
Strong communication skills (written and oral) and interpersonal skills with ability to work across multiple levels of an organization
Previous administrative assistant experience supporting multiple team members with event coordination, travel and expenses.
Advanced Word, Excel & PowerPoint – position will generate reports and graphs via pivot tables and aid in creating presentations
Preferred Qualifications:
Bachelor's degree
Ability to multitask and self-prioritize requests coming from multiple people
Self-starter – ability to take on new ill-defined tasks
Previous experience supporting New Product Development teams
***************
Customer Care Specialist- TD Bank
Location: Falmouth, ME
Responsible for providing moderate to complex support services for Cash Management Customers
Works with Cash Management Customer Care Specialist III & Cash Management Customer Care Lead to identify resolutions to more complex issues.
Frequent interaction with Corporate Customers as well as Store Personnel, Back Office/Operational units, Customer Care Lead and Supervisory Staff.
May develop or assists in developing training materials and manuals.
Maintains required Customer records and documentation, including system information, Customer service reports, explanations of problems and resolution and other information.
Enters and / or records relevant information from Customer calls, correspondence and any other actions affecting Customer accounts.
Prepares regular summaries and reports of account activity
Job Requirements:
2 year degree or equivalent experience
2-4 years related experience required; call customer service experience desired, especially in a call center environment; willing to train right candidate.
Knowledge of cash management industry, including systems, products and services.
Strong Customer service skills, including concern for and ability to identify client issues.
Demonstrated ability to meet Customer expectations and ability to translate technical material and information for nontechnical users.
Ability to perform multiple tasks in a fast-paced environment.
Strong organizational and analytical skills and attention to detail.
Demonstrated PC skills, including proven knowledge of Windows and ability to operate standard office equipment.
Effective communication skills, both verbal and written.
Experience in a high volume call center strongly desired.
**********
Commercial Loan Specialist- TD Bank
Location: North Hampton, NH
The Commercial Loan Specialist I is responsible for managing and administering a portfolio of loans from origination through to settlement and funding in accordance with Bank policies, procedures, and regulatory requirements.
Job Requirements:
May manage a loan pipeline from origination through to settlement and funding in accordance with Bank policies and procedures
Provides documentation and Bank policy and procedure guidance to all lending areas
Orders various loan documentation and searches, as necessary
Updates Exception report weekly
Verifies all quality control procedures are maintained and monitored
Majority of loans handled are standard, non-complex in nature
Qualifications:
4 year degree or equivalent experience
1-3 years related experience required
Thorough knowledge of Bank policies and procedures
Strong knowledge of commercial loan documentation, title policies, appraisals, environmental assessments and entity formation documents
Detail oriented, self-motivated
Excellent communications, planning, Customer service, organizational and interpersonal skills to deal effectively with Customers attorneys and Bank personnel
PC proficiency and ability to travel to loan closings
**********