August 4, 2017
USBLN Rising Leaders Invited To Job Shadow Voya CEO
USBLN Corporate Partner, Voya Financial, recently invited a group of students participating in the Rising Leaders Mentoring Program to job shadow its CEO, Rodney Martin.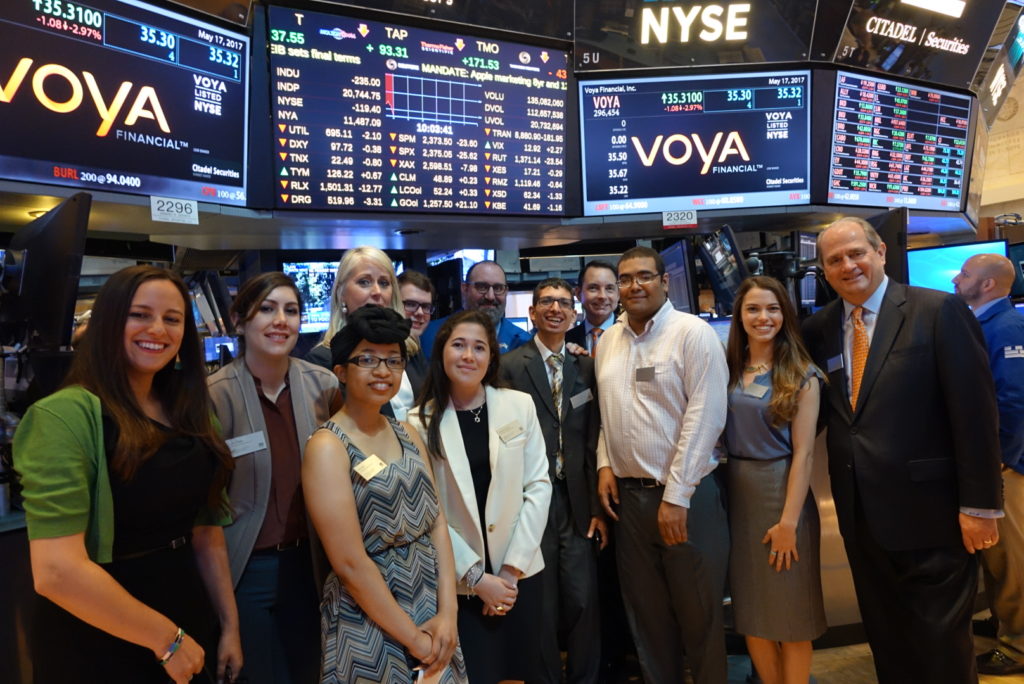 Through Rodney Martin's leadership, Voya Financial is passionate about mentoring opportunities for college students and recent graduates with disabilities. Voya's day of service and the job shadowing opportunity was a natural fit. Students were able to follow Rodney through a typical workday, including attending meetings with other company executives, engaging colleagues regarding company initiatives, and joining him to ring the opening bell at the New York Stock Exchange.  

More information about the USBLN Rising Leaders Mentoring Program and Voya Financial's commitment to people with disabilities can be found on the USBLN Rising Leaders Mentoring Program webpage, and Voya's Supporting People with Disabilities webpage.

Watch and hear the video recap of USBLN Rising Leaders job shadow day with Voya Financial CEO: https://vimeo.com/222710170





USBLN Welcomes New Board of Director Members from Accenture, TD Bank and Voya Financial
USBLN is excited to announce three new board members for the first half of 2017. These board members have shown commitment to disability inclusion and bring key expertise in supplier diversity and marketing that will help progress USBLN forward. Nedra Dickson, the Global Supplier Diversity and Sustainability Lead for Accenture, has joined the USBLN board. Nedra has much experience in […]

---


USBLN Partner Spotlight: Boeing and their commitment towards disability inclusion
USBLN is excited to highlight Boeing, and the efforts of Steve Repsher, Aerodynamics Engineer for Vertical Lift, The Boeing Company. This post was written by Steve to highlight efforts regarding c and the world wide web.

---


USBLN Goes Global at the First Global Disability Employment Summit
Last month, the U.S. Business Leadership Network (USBLN) and the U.S. Chamber of Commerce hosted the Global Disability Employment Summit in Washington D.C.

---


Voya Financial reviews USBLN Annual Conference
Paul Gennaro, Senior VP and Chief Communications Office of Voya Financial, gives his first impressions of USBLN's annual conference.

---


USBLN Conference Exclusive Sessions now available for Sign-Up
The Wednesday, August 23rd Industry Sectors Roundtable at the USBLN Annual Conference is an exclusive benefit for corporate partners that support the USBLN at the Ruby level or higher.

---