June 14, 2018
DOBE Spotlight Series: Betta Beasley
USBLN highlights various disability-owned business enterprises (DOBEs) through the DOBE Spotlight Series. If you'd like more information about USBLN's Disability Supplier Diversity Program, please contact Cami@usbln.org.
2rbConsulting is a USBLN® certified service-disabled veteran disability-owned business enterprise (SDV-DOBE) and woman-owned staffing company specializing in technology solutions across all corporate, commercial, and government industries.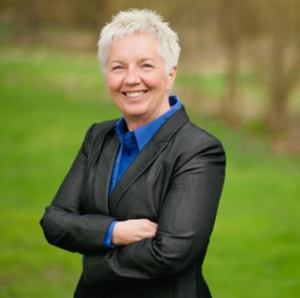 Prior to founding 2rbConsulting, Betta Beasley, the company's CEO, led an interesting professional life. She served in the United States Army Security Agency as an Intelligence Analyst/Cryptologic Linguist. After serving her country, Betta became a software developer, and worked for startups in Silicon Valley as well as Fortune 500 companies from Washington, D.C., to Seattle. During that time, Betta rose through the ranks in the industry to the executive level, helping to grow companies from privately held start-ups to publicly traded global staffing industry leaders.

Although very successful working for other organizations, Betta always knew she wanted to build something, and make a difference in the world. She founded 2rbConsulting in 2007 to serve as a matchmaker for job seekers and corporations looking to hire top talent. Becoming certified through the USBLN's Disability Supplier Diversity Program has been the catalyst to meeting key people in corporate organizations, allowing Betta to build strong relationships and the opportunity to participate in RFPs, BIDS, and proposals to which 2rbConsutling would otherwise not have be exposed. "Diversity certification is invaluable for us. It's not only opened the door to new business, it has introduced us to like-minded diversity professionals who we now call friends and rely on to work together to advocate and support diversity, inclusion and accessibility in the workplace."

When Betta speaks about her experiences with diversity certification, she emphasizes that being certified is only the first step. "Once you are certified, you need to show up and participate." One way Betta and 2rbConsulting have chosen to participate is by becoming Host Sponsor for the USBLN 2018 Annual Conference, and attending regularly. "This takes time, effort and a budget but it is critical if you want to succeed."

The USBLN's Disability Supplier Diversity Program was designed to help certified DOBEs advance contract opportunities with corporations as well as government agencies. By having a procurement model based on diversity and inclusion, corporations and DOBEs achieve greater economic self-sufficiency, positive community impact, and strengthen the American economy. For more information about this certification program and others we provide, please contact Cami@usbln.org.





DOBE Spotlight Series: Artura Taylor
Artura credits USBLN certification and the USBLN Conference for building the type of relationships that have helped her grow as a business owner and a leader. "After attending the USBLN conference last year, I've been able to secure calls with companies I would never have been placed in front of."

---


USBLN And VIB Network Announce Partnership Agreement to Benefit Veteran Business Owners
The USBLN and the Veterans in Business (VIB) Network are proud and excited to announce a new partnership agreement that will enhance the business opportunities and professional development of veteran-disability owned businesses and service-disability veteran owned businesses.

---


DOBE Spotlight Series: iDisability™
iDisability™ is an enterprise-wide eLearning solution. It was developed in a partnership between Joyce Bender and Andrew Houghton, both USBLN Certified DOBEs, and DOBE Host Committee Members.

---


DOBE Spotlight Series: Mona Lisa Faris
Mona Lisa Faris, the publisher of DiversityComm, originally planned to be a professor of intracultural communication and public speaking when she realized she needed to make an important decision: start a teaching fellowship, or take an entrepreneurial path and begin publishing a newsletter on diversity.

---


DOBE Spotlight Series: Pat Graves, Caption First
Caption First, a USBLN® Certified DOBE™, has been providing real time captioning services for almost 30 years. The company is dedicated to delivering communication alternatives for people who are deaf, hard of hearing, or have trouble with comprehension and fluency.

---