March 20, 2018
DOBE Spotlight Series: iDisability™
USBLN highlights various disability-owned business enterprises (DOBEs) through the DOBE Spotlight Series. If you'd like more information about USBLN's Disability Supplier Diversity Program, please contact Cami@usbln.org.
iDisability™ is an enterprise-wide eLearning solution. It was developed in a partnership between Joyce Bender and Andrew Houghton, both USBLN Certified DOBEs, and DOBE Host Committee Members. Launched at the 2016 USBLN Conference, the platform educates organizations and ensures employees have the foundations necessary to effectively communicate with, interview, hire, accommodate, and engage people with disabilities in the workplace.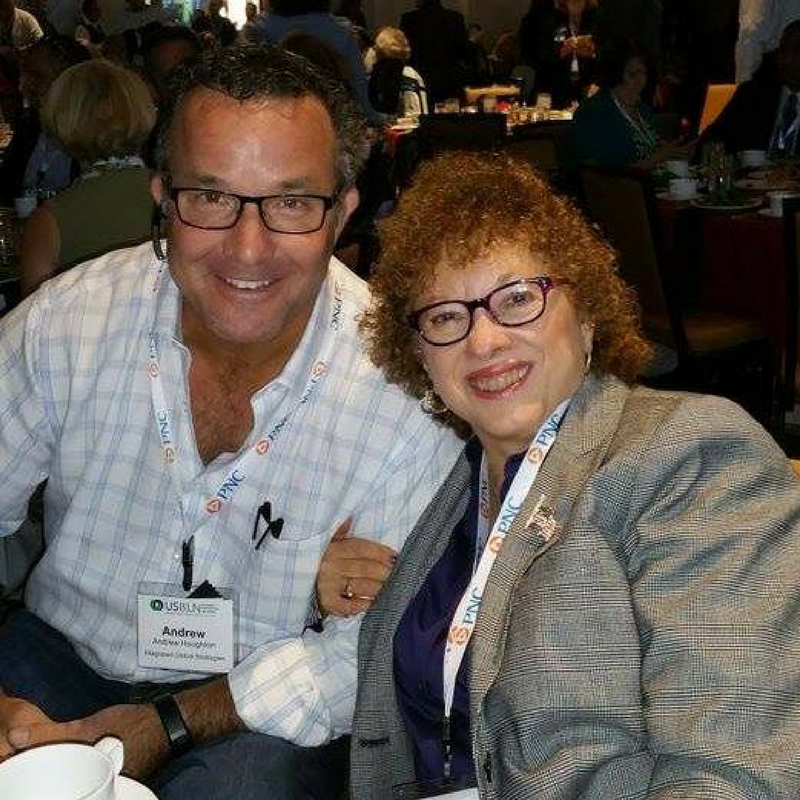 Joyce and Andrew's expertise in disability employment and creative video and media blended perfectly to create the learning platform. iDisability™ provides 15-minute modules on a wide variety of disability employment topics. There are currently 25 modules available, with 10 more due to release by June 2018.

These DOBEs both share a history focused on the development and implementation of programs designed to promote economic self-sufficiency, employment, and full participation for people with disabilities.

Joyce Bender has over 20 years of experience recruiting, hiring, accommodating, and mentoring people with disabilities at work. In 1985, Joyce experienced a life-threatening accident caused by a seizure that led to a skull fracture, a 60% hearing loss in her right ear, and the realization that she was a person living with epilepsy. Joyce had an extensive background in executive search. Once she rehabilitated, she used her professional skills to help people with disabilities find jobs. Realizing the significant barriers to employment for people with disabilities, Joyce decided to leverage her passion for disability employment with her expertise in executive search. She founded Bender Consulting Services, Inc. in 1995.

When Andrew Houghton was 20-years-old, he experienced a life altering motorcycle accident, resulting in paraplegia and the need to use a wheelchair for mobility. In the years following, sports and recreational activities played a key role in his rehabilitation and self-esteem. In 1995, Andrew founded the Land Meets Sea Sports Camp in California, and later became director of a competitive and recreational sports program housed at a rehabilitation hospital in Southern California. There, he witnessed firsthand the challenges people with disabilities faced when seeking to reintegrate into their communities and workplaces. Andrew then took his expertise abroad. He advised transitional governments on disability policy and assisted in the development and implementation of sports and recreational programs for citizens with disabilities.

Upon his return to the U.S., Andrew applied his experience to the field of disability employment. As a way to help foster inclusion, he began writing, producing, and directing numerous media projects. He also offered media production services to clients. This blossomed into his current enterprise, No Barriers Media. No Barriers Media is a leading diversity supplier source for clients seeking disability awareness training and strategic communications, including the production of visual media.

Joyce and Andrew both agree on the greatest benefits of obtaining a DOBE certification and attending the USBLN Annual Conference: opportunities to collaborate and learn from other DOBEs, and the ability to strengthen your offerings and knowledge about prevailing issues.

When the USBLN launched its Disability Supplier Diversity Program, Joyce says "it just made good business sense to complete the process to become certified." She adds, "Certification as a disability-owned business enterprise (DOBE) set Bender apart as a key entity to increase supplier diversity with the customers we serve." As a result of Section 503 of the Rehabilitation Act of 1973, federal contractors are looking to increase their representation of people with disabilities in their workforce, and seeking suppliers with expertise in disability employment. Though Bender has been providing talent with disabilities for over 20 years, DOBE certification adds further credibility to the company's reputation in the disability employment space.

According to Andrew, being a USBLN certified DOBE has expanded his opportunities to become a supplier of choice. His clients seek high quality media products and services, including motion/video production; special effects; and open and closed captioning services. "Being a DOBE has created opportunity for direct dialogue with USBLN DSDP companies, which has resulted in numerous contracts for NBM," says Andrew.

In 1999, Andrew attended his first USBLN Annual Conference in Denver, Colorado. There, he met his future wife, Jill Houghton. Since then, he has attended numerous USBLN conferences. "Being able to mingle with over 1,000 colleagues and like-minded businesses inspires innovations, generates a tremendous amount of business leads, and leaves attendees with a vision of hope for the future of youth and adults with disabilities," he says. Joyce has also attended the USBLN Annual Conference for several years. "I have watched it grow from a relatively small event to over 1200 attendees in 2017. It has become one of the premier conferences of the disability community," she says. Joyce also feels the USBLN Annual Conference is a distinct opportunity to connect with other disability suppliers and potential customers looking to learn and grow in the business space.

The USBLN's Disability Supplier Diversity Program was designed to help certified DOBEs advance contract opportunities with corporations as well as government agencies. By having a procurement model based on diversity and inclusion, corporations and DOBEs achieve greater economic self-sufficiency, positive community impact, and strengthen the American economy. For more information about this certification program and others we provide, please contact Cami@usbln.org. The USBLN Annual Conference will be held in Las Vegas, July 9th – the 12th. Visit usbln.org for more information.





DOBE Spotlight Series: Betta Beasley
Prior to founding 2rbConsulting, Betta Beasley, the company's CEO, led an interesting professional life.

---


DOBE Spotlight Series: Artura Taylor
Artura credits USBLN certification and the USBLN Conference for building the type of relationships that have helped her grow as a business owner and a leader. "After attending the USBLN conference last year, I've been able to secure calls with companies I would never have been placed in front of."

---


USBLN And VIB Network Announce Partnership Agreement to Benefit Veteran Business Owners
The USBLN and the Veterans in Business (VIB) Network are proud and excited to announce a new partnership agreement that will enhance the business opportunities and professional development of veteran-disability owned businesses and service-disability veteran owned businesses.

---


DOBE Spotlight Series: Mona Lisa Faris
Mona Lisa Faris, the publisher of DiversityComm, originally planned to be a professor of intracultural communication and public speaking when she realized she needed to make an important decision: start a teaching fellowship, or take an entrepreneurial path and begin publishing a newsletter on diversity.

---


DOBE Spotlight Series: Pat Graves, Caption First
Caption First, a USBLN® Certified DOBE™, has been providing real time captioning services for almost 30 years. The company is dedicated to delivering communication alternatives for people who are deaf, hard of hearing, or have trouble with comprehension and fluency.

---